If you've tried shopping for hemp extracts and CBD you are likely aware of some of the challenges due to the variety of products available. Many new customers get confused by the types of CBD offered and what they should be using for their particular ailment. If you've been scratching your head over terms such as full spectrum CBD or CBD isolate than continue reading for a bit of enlightenment.
What are Cannabinoids?
If you are new to CBD then it will be beneficial to go over exactly what it is and where it come from. The first thing you need to know is Cannabidiol (CBD) is a cannabinoid. Cannabinoids are chemical compounds that are found in the cannabis plant. There are actually over 100 known cannabinoids with CBD and THC being the two most well known. Cannibinoids interact with our bodies through our endocannabinoid system. Each cannabinoid has a different effect on the body and researches think that by combining the various cannabinoids along with the plant's terpenes and flavonoids, these effects can be strengthened. This strengthening is what is known as the "entourage effect". Now that we have the basics, let's go ahead look further into the relationship of cannabinoids and full spectrum and isolate CBD products.
CBD Isolate
This is the most basic form of CBD and is simply what it says it is. It contains no other cannabinoids, terpenes or flavonoids. Only pure, isolated CBD extract. Once the hemp oil has been extracted from the plant it then goes through a distillation process with various steps that will separate the CBD from the other cannabinoids. The finished product is a white powder that is up 99.9% pure CBD. The CBD can then be used in a variety of products that can be used topically or ingested through tinctures, edibles and vaping. Because of the lack of THC present in these types of products, it is the preferred method to take CBD if you are required to take a drug test for work or sports.
Full Spectrum CBD
Nothing is removed after the extraction process of full spectrum products. These hemp extracts contain the full range of cannabinoids as well as terpenes and flavonoids. Earlier we briefly mentioned the entourage effect and this is where it comes into play. The synergy of the cannabinoids and terpenes present are believed to provide more effective doses of CBD from your preferred method of ingestion. There is however one concern found among CBD customers. Because they include all the cannabinoids, full spectrum products contain THC, which is the compound responsible for the psychoactive effects of the cannabis plant. But here is a bit of clarification. Most CBD products are made from industrial hemp which is legal under the 2018 US Farm Bill. In order for a cannabis plant to be considered hemp it needs to posses less than 0.3 % THC. So although these products will contain trace amounts of THC, the levels are low enough that a user will not experience the 'high' that THC is typically known for. It is important to note that while full spectrum CBD oil is generally favored due to its effectiveness, those that are required to drug test should be advised to steer clear as they will likely test positive for THC.
What is Broad Spectrum CBD?
Another term that is showing up more frequently is "broad spectrum". This is sort of the middle ground between isolate and full spectrum. These products contain a range of cannabinoids but the THC has been removed. It will have most of the entourage effect benefits and users can avoid the risk of testing positive on a drug test. This can be an ideal solution for users against the idea of THC or who frequently drug test due to work or sports.
So Which is the Best?
Now that you understand the various terms, chances are you are still confused about what is the right product for you. The fact is neither form is necessarily superior and each possess their own pros and cons.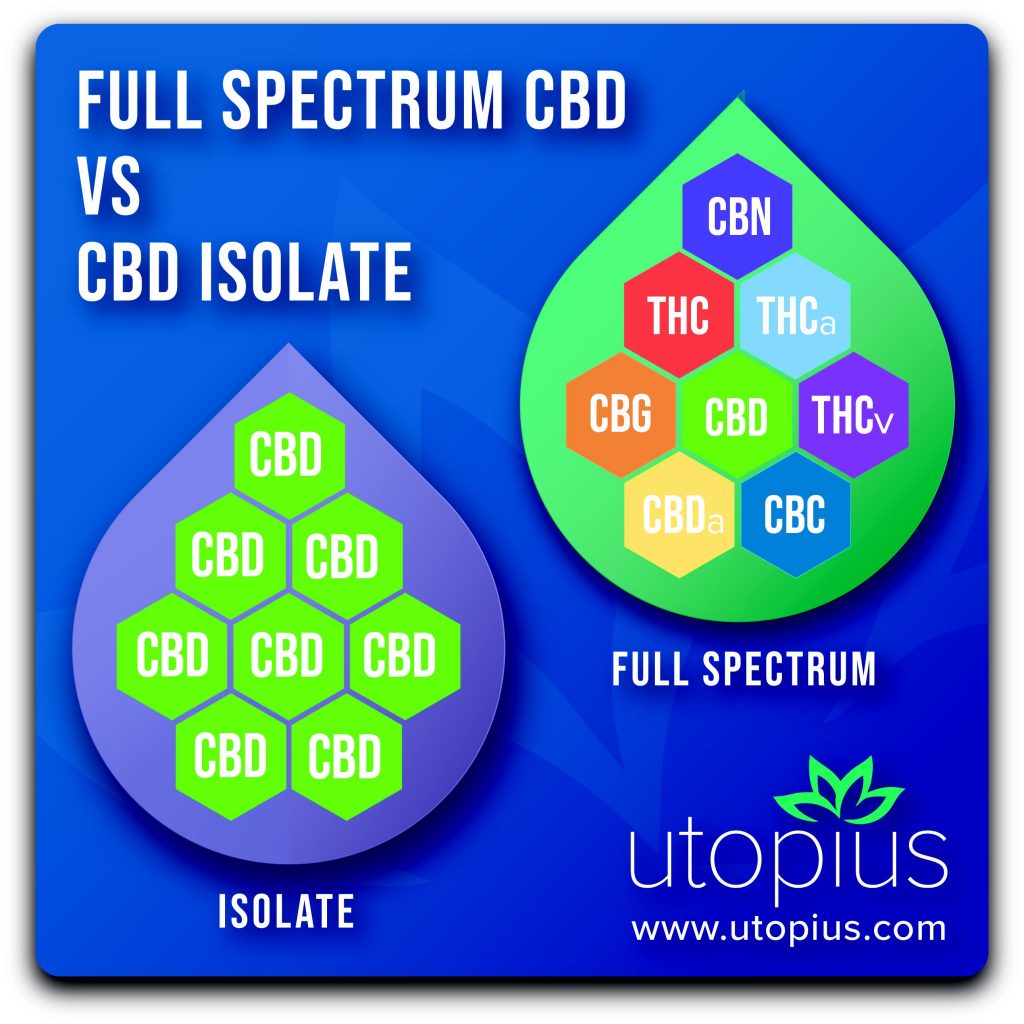 Adding up the pros and cons will help you decide.
CBD isolate is the purest and most potent form of CBD and has zero risk of any psychoactive effects or positive drug tests. This form is also odorless and tasteless so it can be mixed in a variety of products and recipes. It's real drawback is that you miss out on the potential benefits that the other cannabinoids provide in the entourage effect.
With full spectrum products the obvious advantage is the entourage effect. These plant extracts provides the most benefit possible because more of the plant is intact. The only real negatives here are if you have to submit a drug test or if you happen to be hyper sensitive to THC. It also will have a stronger flavor and aroma due to the terpenes and flavonoids present.
Hopefully this will clear up a little confusion and help you identify what is right for you. Keep in mind, each individual may react differently to the different products so it is advised to try a few and see what is more to your liking. Remember that neither CBD type is superior. It all comes down to personal taste and needs.
*These statements have not been evaluated by the Food and Drug Administration and are not intended to diagnose, treat or cure any disease. Always check with your physician before starting a new dietary supplement program.