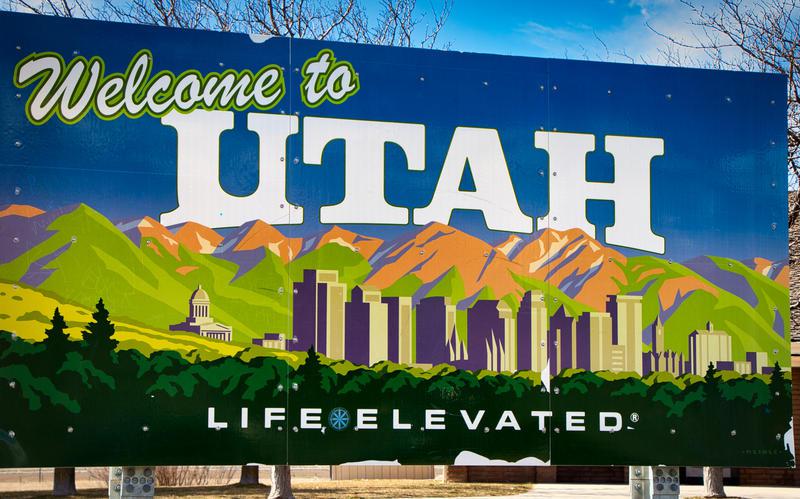 Last year a Gallup pole showed that 1 in 7 Americans have used CBD products. These CBD infused oils and topical solutions are being used to treat a wide variety of ailments such as anxiety and insomnia. And although the FDA has only approved CBD for use with one medical condition resulting in seizures, it seems that it's popularity is going to continue to grow in the coming years. So if your doctor's recommending you try it or if you just want to do a little research we can help the citizens of the state of Utah determine where they should buy these CBD products
What is CBD?
Cannabidiol (CBD) is found in the cannabis plant. It is one of over 100 different molecules called cannabinoids. CBD along with tetrahydrocannabinol (THC) are the two most popular of these cannabinoids. These molecules are known to interact with the human body through receptors that are part of the endocannabinoid system (EDS). The ECS is involved in regulated certain physical functions such as pain sensation, mood, memory and the immune system.
Is CBD Legal in Utah?
CBD has actually been legal in Utah since 2016 when the senate passed SB 89 amending the states cannabis law and giving citizens access to cannabidiol. The Utah Department of Health oversees the state's medical cannabis program which was signed into law in late 2018. This program gives patients with certain conditions access to medical marijuana through state licensed dispensaries with the recommendation of a physician. However since most CBD products are currently extracted from the hemp plant, federal law really has everyone covered.
Industrial Hemp was made a legal crop when president Trump signed the federal 2018 Farm Bill. Under this bill, hemp is defined as a cannabis plant that contains less than 0.3% of THC. As we mentioned, the majority of CBD products available today are actually derived from hemp and therefore are considered a legal substance. We should mention that a few states have their own laws in place to regulate these products and they may still not be considered legal under state law. Utah is not one of those states although they do have a program where growers, producers and retailers can register their products with the Department of Agriculture and Food.
What Should I Look for When Purchasing CBD Products?
When shopping for CBD and other hemp extract products there are a few things you will want to take into consideration to be sure you are not wasting your money and more importantly using safe CBD products. We will go over some of these here.
Quality Control
Although the explosion in demand for CBD products has been good in bringing its benefits to the masses it has also brought in unscrupulous companies looking to make a quick buck. In order to keep costs low, these companies tend to source their products oversees with little quality control or even worse use synthetic ingredients. A recent study also showed that many products also do not contain what they are claiming. Although a company can basically print and claim what they want, we do recommend that at a minimum you find a company that has their products analyzed by an independent accredited lab.
Lab Testing
With the current lack of FDA regulation, buying products that have been tested by a third party lab is a baseline requirement. Companies can pay to have their products examined by an independent lab. These labs can look for a variety of things such as CBD and THC content, residual solvents or pesticides, heavy metals and mold. Retailers of these products will be able to provide documentation for these tests and many of the online CBD stores will have links to that information right on the website.
Variety
The fact is that every person will react differently to CBD. For some it will work wonders and for others not so much. For this reason it is useful to find retailers that offer a wide variety of products. Different methods of consumption and application are available. Sublingual products like CBD oil extract drops are very popular. With these, the hemp extract is typically combined with a carrier such as MCT oil or hemp oil and administered under the tongue. Other popular products such as CBD gummies or CBD soft gel capsules are very convenient to consume and allow for more accurate dosing. While CBD topical products are great for localized muscle and joint soreness.
Full Spectrum vs Isolate
There is quite a bit of confusion when it comes to the subject of full spectrum and pure CBD isolate products since typically these products are simply marketed as "CBD Oil". In reality all CBD products are a hemp extract which is then added to some form of delivery solution whether it be an oil or a lotion. But the distinction is actually important as they are definitely not he same. A full spectrum product is one where the entire hemp plant is used for extraction. With these you will get all the cannabinoids and terpenes found in the plant. It is also important to note that because of this, these products will contain trace amounts of THC, although not enough to get someone high. A CBD Isolate is actually what it sounds like. After the extract occurs only the CBD molecules are isolated before going into their respective products. With these you should only have CBD in them which is another reason to seek out lab tested products.
Where Can I Buy CBD Oil in Utah?
If you live in Utah and are interested in seeing if the benefits of CBD can help you, you're in luck because they are readily available. There are many reputable brick and mortar CBD oil shops in Utah cities such as Salt Lake City, Sandy, Kayesville, Pleasant Grove, Provo and St. George. A simple online search should help you locate your nearest store. For added convenience you can also buy your CBD Oil online. Many online CBD retailers have easy to navigate, secure websites with a variety of products. Here at Utopius we offer high quality hemp extract and CBD oil products from a single source. All of our consistent formulas have been lab tested for potency and safety. Visit us here.
If you've read this far then here is a little gift. Just visit the Utopius online CBD store and use the code: TRYUTOPIUS to get 40% off of your next order. Thanks for reading.
UTOPIUS
564 W 700 S #101
Pleasant Grove, UT 84062
*These statements have not been evaluated by the FDA. This product is not intended to diagnose, treat, cure or prevent any disease.